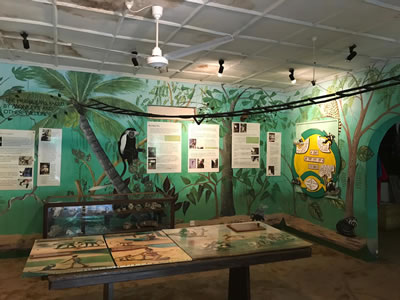 Hidden away amongst the coastal forest, Colobus Cottage is an office, information centre, primate rescue facility and home for Colobus Conservation volunteers since August 1997. It is also home to a habituated troop of colobus monkeys, who reside almost entirely within the boundary of our plot, making it an ideal site for ecological and behavioural studies or to just come and watch. Other primates you will likely see are the vervets, sykes and baboons.
Come for a Guided Primate Eco-Tour, the only one in the country!! We will take you on a guided walk along the nature trail for a personal introduction to a wild colobus troop and our other wild monkeys - vervets, sykes and baboons - depending on who is about. This is followed by a talk in the information centre where a series of posters help further to visualise our ongoing conservation activities. As an active conservation centre visitors are likely to see volunteers and staff at work, building bridges, caring for injured monkeys or doing research.
Our Location

The Colobus Conservation is situated in Diani, South Coast Kenya, approximately 30 kilometers south of the Likoni Ferry (Mombasa). Take the first left past KFI supermarket along the Diani beach road (six and a half kilometers from the Ukunda junction). There are signs from there to direct you. For more detailed information and a map go to Our Location.
Opening Hours

We are open for guided primate eco-tours from 8.30 a.m. to 4.30 p.m. Monday to Saturday. On Sundays we are closed for Eco-tours.

Please call in Diani +254 (711) 479453 or Contact Us. Alternatively, speak to the animator at your Diani hotel who can arrange these tours for you.
Primate Eco-Tour Charges: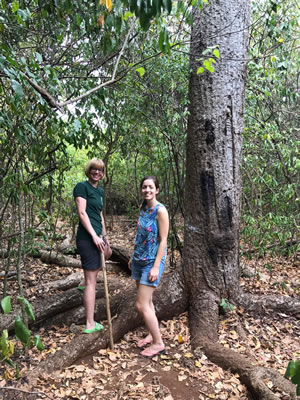 Citizens: 250 Kenyan shillings

Citizen Children age 7 - 11 yrs: 100 Kenyan shillings

Residents: 750 Kenyan shillings

Resident Children 7 - 11 yrs: 350 Kenyan shillings

Non-citizens: 1,000 Kenyan shillings

Non Citizen Children age 7 - 11 yrs: 500 Kenyan shillings

Children under 6 yrs: free

Children above 12 yrs: Pay as adults

Opening Hours:

Monday - Saturday: 8.30 am - 4.30 pm
Extra donations are gratefully accepted as the funding for our conservation activities relies solely on gifts, grants and donations.

We also have a lovely shop for any souvenir items you may like to purchase for yourself or your friends.